MEGATRNDZ > News >
Fashion News> Supermodels Reunite
This Show is For Him
— VERSACE (@Versace) September 22, 2017
On September 22, 2017 This show is for him, says Donatella Versace when she dedicated her most recent Versace fashion show in Milan Fashion Week to her late brother fashion designer Gianni Versace.
Versace | Spring Summer 2018 Full Fashion Show | Exclusive
So Gianni Versace was a force not to be wrecken with. Breaking barriers and trends that had never been done before. Gianni Versace put color in the runaways and magazine layout like never before, and made it into fashion. Soon after his death, the fashion world saw fashion in black and white again literally. Everything he did in the fashion world turn to an instant worldwide sensation.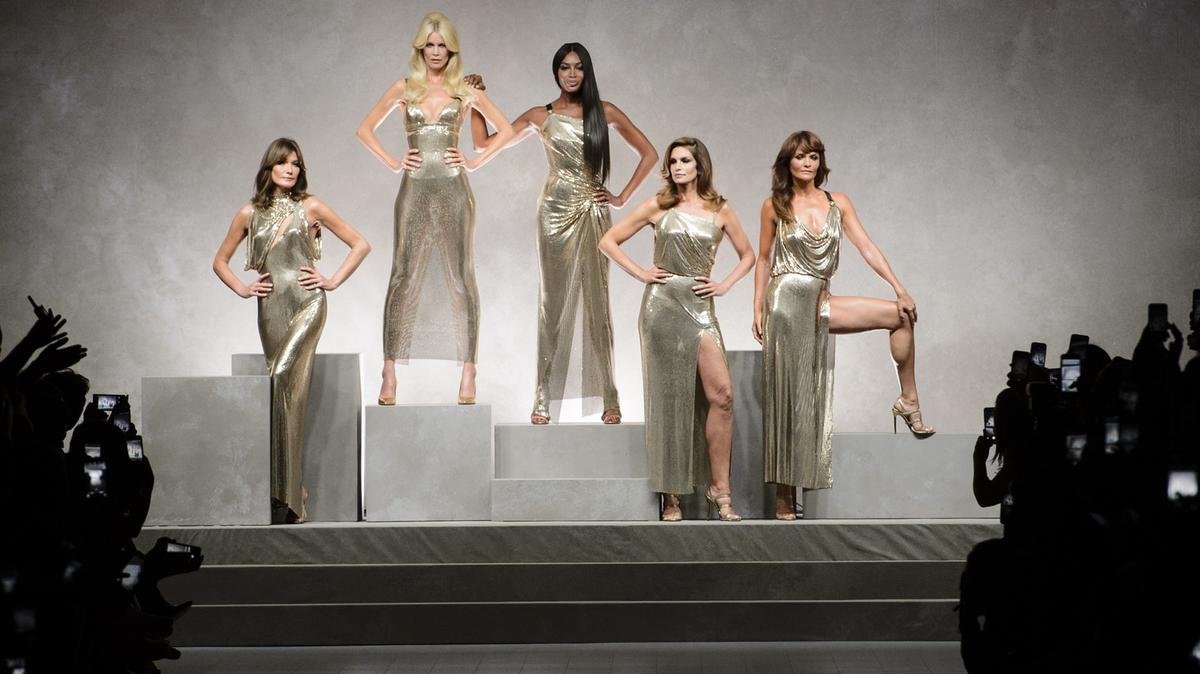 And so he created the term supermodels creating voluptuous unknown names into power houses. These beautiful women chosen by fashion mogul Gianni Versace embraced the fashion runaways and sold out magazines . Gianni Versace was known to be a nurturer of fashion almost like a fashion father figure to this powerful new models. When he started paying models like Linda Evangelista over $20,000 dollars per show just to walk down his runaway they became supermodels.
According to the New York Times :
The show brought together the supermodels that Gianni Versace helped create — Carla Bruni, Claudia Schiffer, Naomi Campbell, Cindy Crawford and Helena Christensen — and the new generation of celebrity models that Donatella Versace says is the first in decades to exude the requisite confidence: Gigi Hadid, Bella Hadid, Kendall Jenner and now Kaia Gerber, Crawford's daughter.
Supermodels like Naomi Campbell immediately tweeted to Fashion House Designer Donetella Versace:
— Naomi Campbell (@NaomiCampbell) September 23, 2017
There were tweets like, A show to remember. For the 20th anniversary of the death of Gianni .
Back then it took a super fashion mega designer like Gianni Versace to create the supermodels. Now things are a little different because a name like Kaia Gerber will become an overnight success by simply being Cindy Crawford daughter. Let us look at it this way, she just started doing her first fashion show and she is all over the fashion runaways promoting big names like
Cindy Crawford, a supermodel of the 1990s along with her daugher now fashion model daughter Kaia Gerber who is just 16 years old.
— Pat McGrath (@patmcgrathreal) September 22, 2017
On September 20, 2017 Kaia Gerber tweeted out her first fashion show.
September 20, 2017
If Gianni Versace would have been alive today, the fashion industry would certainly be totally different than what it is today. Uniting and creating a dominance and breaking new grounds. That is what Gianni Versace would have created.
I think i am too classic...you really have to break barriers every day..most of the people are blind, said Gianni Versace in 1994 interview with Charlie Rose. Gianni Versace was comfortably genuine, almost humble to a sense and that is how he broke barriers.
GIANNI VERSACE The last Haute Couture Show 1997 Ritz Hotel Paris by Fashion Channel
SEPTEMBER 2017
September 17-23 2017 Week 3
7.4 magnitude Mexico City Earthquake Trend: My Daughter is Buried and No One Looking For Her?
MAPS the World's Largest Marine Protected Area Milan Fashion Week 2017: How Sustainable will Milan Fashion Week Be?
London Fashion Week Ban Fur Petition
BREAKING NEWS: 7.4 Magnitude Mexico City/ Terremoto en Ciudad de Mexico 7.4
Martial Law Declared in London
September 10-16 2017 Week 2
Decoding Jose Maria Lee Hurricanes.html
Inspiring Others at Fashion Week
London Fashion Week Ban Fur Petition
Protest at Fashion Week
London Fashion Week 2017
New York Fashion Week Sept-13, 2017
North Korea Fires Missile
After Irma's Aftermath IRMA Moving Northward Near FT. MYERS
Keywest Eye of the Storm Sept 10 2017 4 pm
September 3-9 2017 Week 2
7 am Irma Floods Downtown Miami 86 mph Winds Kendall 25 ft high Waves
A Nightmare before the Catostrophe of Irma
Monsterous Irma Wipes Keywest
Dangerous Hurricane Irma Live Feeds
Janet Jackson visiting Shelters in Houston