MEGATRNDZ > News > Fashion News > London Fashion Week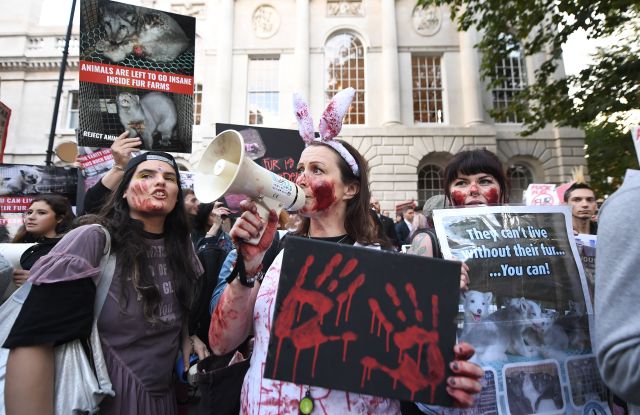 Currently London, England it is
London Fashion Week
Protest at London Fashion Week
2017-09-16- 1:30 pm
#ldfw #leatherisdead #LFW #furfashion #banfur #petauk
What is it all about. While some gather inside to watch the latest creations by big name labels others gather outside to protest. It is a scene quickly building up as more and more people want to get their point of views heard.
— megatrndz.com (@megatrndz) September 16, 2017
Let us see what all the racket is about. Just 18 minutes the following tweet hit worldwide from a British Cabbie driver. Chants like "shame ..fashion week" seem to be progressing just outside the Clerkenwell Green for Burberry London Fashion Week show! :
— 🇬🇧Parker🇬🇧 (@ParkerCabbie) September 16, 2017
Is it correct to gather outside a private event. Is the message being spread at the appropriate time. Could there be another medium to spread the word for this protesters? Well organizations like Peta , and other animal activists think so:
One twitter says to ban the fur #lfw
— 🇬🇧Parker🇬🇧 (@ParkerCabbie) September 16, 2017
— Fashion Feed (@Fashon_360) September 16, 2017
There's an anti fur protest outside of Burberry show chanting "shame," but does Burberry even use a notable amount of fur?

pic.twitter.com/fUEhiiXoPt

— Steve Dool (@MrDool) September 16, 2017
In July Burberry shareholders
staged a protest against executive pay:

— Sky News (@SkyNews) July 13, 2017
— PETA UK (@PETAUK) September 15, 2017
Meanwhile eight hours ago in London:
Parsons Green terror attack: Taxi drivers giving free lifts to people affected by the tube explosion

https://t.co/GpLMlDSWbu

— Knowledge Point Sch (@taxitradepro) September 16, 2017

Neither Too Big or Too Thin
Promoting normal sizes over 12 is steadily rising, all around the World such as last week in New York fashion week and this week in London Fashion week. So fashion has been surely slowly evolving in all catwalks around the
world....

Other News:

London Fashion week:Neither Too Big or Too Thin
New York Fashion Week Sept -13,2017
Sept 10 Strange Sky Sounds: Apocalyptic


North Korea Fires Missile
After Irma's Aftermath
IRMA Moving Northward Near FT. MYERS
Keywest Eye of the Storm Sept 10 2017 4 pm
7 am Irma Floods Downtown Miami 86 mph Winds Kendall 25 ft high Waves
A Nightmare before the Catostrophe of Irma
Monsterous Irma Wipes Keywest
Dangerous Hurricane Irma Live Feeds
Janet Jackson visiting Shelters in Houston
Links:
http://www.londonfashionweek.co.uk/Schedule
https://www.standard.co.uk/fashion/news/when-is-london-fashion-week-2017-dates-tickets-schedule-events-and-locations-a3635041.html