MEGATRNDZ >
entertainment > celebrity
follow megatrndz on twitter, facebook and google plus
Actor Antonio Sabato Jr. Runs for Congress
August 26, 2017 10:40 am
Supermodel, Actor runs for Congressional
Watch below video as Alex Jones talks with Antonio Sabato Jr. about his Congressional run in California.
"He is a real hero" were Alex Jone's words about Antonio Sabato Jr as he becomes Alex's next guest on his show. I want to make a difference" says Antonio Sabato Jr. as he sits with Alex In his interview Antonio says he hates Socialism, and Communism.
ANTONIO SABATO JR: STAND WITH OUR PRESIDENT AND YOU STAND WITH AMERICA Congressional candidate reveals what it means to be a patriot
Does Miley Leave Nothing to the Imagination
August 25, 2017 8:40 pm
Miley Cyrus - Younger Now (Official Video) MileyCyrusVEVO MileyCyrusVEVO
The number 9 seems to be Miley Cyrus numbers the 9th month on the 29th day, because that is the time the album hits the market. But wait eventhough
Miley Cyrus is not causing that much attention as Taylor Swift new single out that came out last night it is causing sensation in other venues of her career. With over 15 million views already out as seen on mileycyrusVevo she realeases her video immediately . Leaving nothing to the imagination. Miley Cyrus does not leave us waiting for what next. Which is very different than Taylor's swift lyric video. The killer album cover of Miley Cyrus is all about the leather beads, and embellishment. Her hair do is rocking it. In comparison with Taylor Swifts cover Album , Miley Cyrus is tasteful and fun.
Miley Cyrus new single is #YoungerNow has been realesed August 17, 2017
— Miley Ray Cyrus (@MileyCyrus) August 25, 2017


So Miley Cyrus album cover artistic expression may not look like it is going through a crisis in one sense. But look at the latest pose for photographer David Lachapelle new book called Lost + Found to be released soon. Miley Cyrus poses nude with apple blossom flowers all around her in the background seeming a little off from the joyful magical look. Not sure if she is posing as a butterfly, fairy, angel or simply the colors of her aura the image is being defined as the contradiction of David Lachapelle's imagination.
#lost+found #davidlachapelle
— Miley Cyrus News (@MileysCyrusNews) August 24, 2017
Is Taylor Swift Really Re Inventing Her Image
August 25. 2017 4:20 pm
Official #LWYMMDvideo world premiere. Sunday 8/27 at the @vmas
So the Drama continues with Taylor Swift new invention.
While Taylor Swift is trying to create a new image for herself others are saying "nu uh" those are mine. Let us find out.
Prince Cover

Right Said Fred

Beyonce's Lemonade
— Taylor Swift (@taylorswift13) August 25, 2017
Prince Cover Album
Just as soon as Taylor Swift released her new Song, Look What You Made Me Do, it has been a sensation and a talk all over about her violating copyright infringements. It was not at all the case. Megatrndz.com squashes all possibilities of there being copyright infringements.
Nope, the cover did not look the same as Prince's Album. Of course Prince Pop Star is not here to defend his case. Everyone has the right to pose behind any similar any physical item if they want. It is called freedom. As a matter of fact, Prince had his belief imprinted on the newspapers nothing close to Taylor Swift Album Cover.
Right Said Fred
Meanwhile Right Said Fred came to their defense saying on twitter " Thank you Taylor for the reinvention". Meaning they felt it was an inspiration perhaps a copyright infringement. Megatrndz.com squashes that. There were no similarities to the beat. Right said Fred will be releasing a new single in a couple months, so they are grabbing as much publicity that they can while they can. The closest the Right Said Fred 90's popular band is to Taylor Swift, is their knuckle promoting on their Twitter front page picture to Taylor's Good Morning america
Instagram
— Right Said Fred (@TheFreds) August 25, 2017
Beyonce's Lemonade
So the "haters are going to hate" are Taylor's words. So the haters are saying that she is copying Beyonce because the video is set in a ballroom. The ballroom theme has been overly done in the past few years on many music videos. This is what one writer form people.com reported online:
The Beyhive was quick to point out that the scene had some similarities to Beyoncé's Lemonade visual album. In the video for Lemonade track "Sorry," Beyoncé and Serena Williams dance in the halls of a lavish Louisiana plantation while wearing black leotards. The diva also donned the look with an army of similarly dressed backup dancers during her performance of "Formation" at Super Bowl 50.
pininterest
This is all the same when realeased a new song for the Madonna 2007 album. The talk about one of her video imagery and cover album being an infringement to some photoshoot.
Taylor Swifts Single Out Reputation
— megatrndz.com (@megatrndz) August 23, 2017
Trending on Youtube at #2 Taylor Swift new itunes song music is already out of her New Album entitled Reputation
It is called
Look what you made me do .
There are some lyrics from the Song referring to "I rose from the dead" and referring herself as being " dead " with a hole bunch of dancing words and snakes in the background it hardly a video like Taylor Swift we have seen before as promotional. Taylor Swift creates first a Lyric Video so it will a surprise if it will be followed up a storyline music video for "Look What you made me do"
Meanwhile yesterday after megatrndz.com reported on August 23, 2017 "How did Taylor Swift Grew a Fork Tongue" on about the Taylor Swift word hack incident, Billboard contributor Taylor Weatherby at 11:42 pm on an article entitled "Taylor Swift Drops Dark New Song 'Look What You Made Me Do'":
While Swift has certainly been known for her surprises, she was very clear about the arrival of her newest song. The superstar initially set the Internet ablaze on Aug. 18 when she wiped all of her social media clean, following it up with an eerie 10-second video of a snake's tail that sparked talk of a new song or even an album -- and triggered countless snake emojis. She shared two more snake-related videos before delivering the official news Wednesday, and the Taylor mania hasn't stopped since.
Hear and watch Taylor Swift's Look What you made me do new lyric video below.
Taylor Swift - Look What You Made Me Do (Lyric Video) by TaylorSwiftVevo


Was it really the "social media clean" or was it some sort of hacking that her social media hackers got a hold on just before her release of her new album.

There is also that message behind wiping history just like she just did. Celebrities twitter pages are always getting hate , and garbage on their social media pages so it was nice to see that someone is doing something about it.

But Perhaps Taylor Swift should make a comment about her song lyric where she says she is "dead" and has she become a reptilian or shapeshifter for real! There has been much talk about shapeshifter and reptilians existing underground in Los Angeles as reported on Netflix new series "Monsters and Mysteries". Does she belong to the Lizard members of society.
...
Still Time To Catch up on Stranger Things



Twin creators Matt and Ross Duffer have just confirmed there will be a third series. So the talk out there is will there be a fourth. Just Relax People! The second season of Stranger Things is set to premier on Netflix on October 27 so will it crash the Netflix website.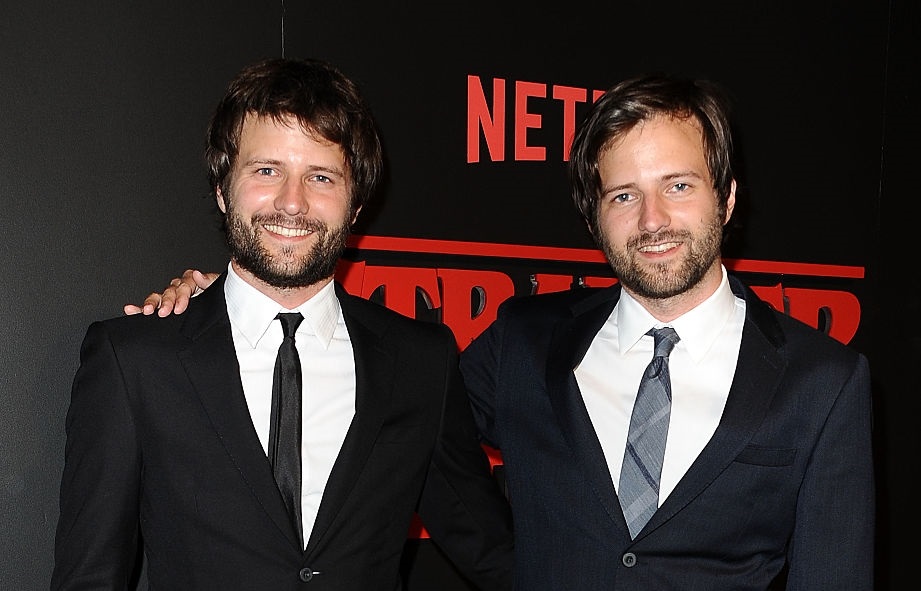 Matt and Ross Duffer image at wikia,com
So there still is time to catch up for those that have missed out on the new family entertainment. While there is a week or so for Summer to End and Kids head out to School, it sums up to about 10 viewing hours. Easily watched in one day. So far it is filled with ideas, theories and actual events that may be occurring in today s strange world found and discussed in other articles on megatrndz such as The Cern Trend, cern collider, hadron super collider , time travel, superhumans, humanoids, alien agendas, chimeras, reptillians, transhumanism, etc,
Not recommended for the very young kids because the Alien sceens are scary and the bullying is a little crude.
Next Article to read
How did Taylor Swift Grew a Fork Tounge
...
How did Taylor Swift Grew a Fork Tounge

2017-08-23 4:40pm
While Taylor Swift had just posted her instagram pictures below
This is what viewers were reporting on viewing. It is a phenomena that is happening all over the internet a word hacking. While some are viewing the real photo of the word clicked online, other viewers around the world may be viewing the below. So it is being reported all around the world.
What a mess the internet is creating images that are not really there. So what really is going on!
So as Perez Hilton a Hollywood blogger mentioned on his blog, entitling it as:
1989 was the year of the snake — and so is 2017, apparently! A year after being branded a ~snake~ by her public enemies — and subsequently the entire internet — Taylor Swift is officially owning her reptilian nature! On Wednesday, the pop star completed her slithering social media clues leading up to the announcement of her new album, which was revealed to be titled Reputation.
So another odd thing happened.
With some twitter accounts changing her face to the snake image and then putting it back to the normal one? What is all the confusion about. Trying to tarnish an image and making viewers believe what is there is not really there, is another form of fake news. It is meant to fool our minds called deception, tricking our minds to see what is there now is really was not there before.
August 23, 2017
So it is happening folks the age of deception..beware! Let "them" not hack your mind too!