megatrndz on

twitter, facebook, youtube y google plus
Reservoirs Failure in Houston!
Who to follow on twitter para for full immediate repor
ts in the Houston Area
https://twitter.com/ReadyHarris
https://twitter.com/hcfcd
https://twitter.com/fbcoem
https://twitter.com/galvcountyoem
https://twitter.com/RbergTxGov
websites:
https://www.hcfcd.org/flooding-floodplains/addicks-and-barker-reservoirs/
So while the below tweeted,, at 4:41 pm the reports from the WFAA media reported the opposite with atleast 774 views by 10:34 pm central time. Watch below video entitled Neighborhoods flooded by Addicks reservoir both from August 29, 2017
Addicks and Barker dams have NOT breached!

— HCFCD (@hcfcd) August 29, 2017
2017 Actual List of 59 neighborhoods in threat of flooding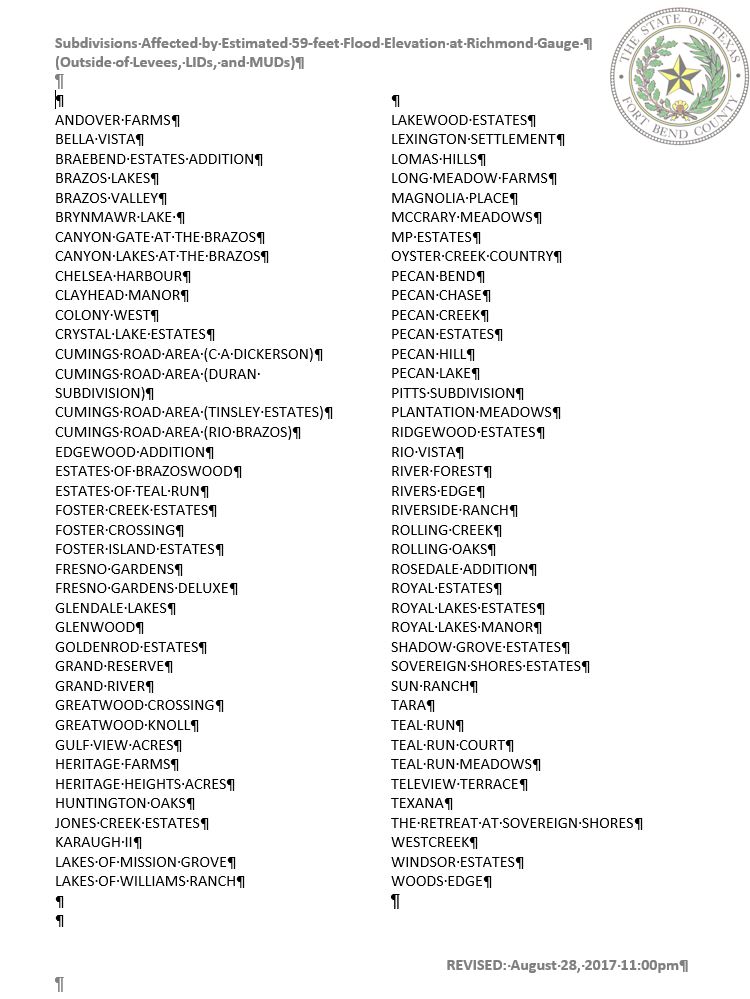 — Fort Bend County OEM (@fbcoem) August 29, 2017
Houston Reservoirs Failure
The Houston Reservoirs built during world war two, was built to collect and hold back rain water from the Houston metropolitan area to keep downtown Houston from flooding. So what happens when it can not sustain more water. It opens up the Levees. It then floods certain areas if it must. The situation has never really been so. Until now.
Judge Hebert orders voluntary and mandatory evacuation as of August 28. 2017:
Judge Hebert said that "…a flood of this magnitude is an 800 year event and it exceeds the design specifications of our levees, and is potentially dangerous for a good portion of Fort Bend County. A fifty-nine foot river level threatens to overtop many of the levees in our area. As a result, I am ordering both voluntary and mandatory evacuations for many of the levee improvement districts along the Brazos River, based on all specific facts pertaining to each levee .
continue reading
Chaotic Scenes Due to Addicks Reservoir Breach in North Houston
By August 29, 2017, First time in history the Addicks reservoir is spilling over and eventually move downtown says reporter. neighborhoods flooded by Addicks reservoir. There are blue skies behind us says the reporter as she continues to mention being over 3 to 4 feet of water.
Neighborhoods flooded by Addicks reservoir
On Their Own Walking Thousands of Houston People Affected
90 % Volunteers are rescuing where are the 12,000 troops.
Hear reporter say that reservoir has been flooding for 12 subdivisions, since early this morning meaning August 29 . So where is the Government owned land that was suppose to immediately be affected if reservoir spilled according to the government report on August 26, 2017.
Search and rescue efforts in neighborhoods flooded by Addicks Reservoir
August 29, 2017 Near Addicks Reservoir 7 am

Clay road from Greenhouse to Elderidge at least is under water.

Addicks Reservoir Check| Day 5 | 8-29-17 @7am
What happened before August 27, 2019
Publish August 29, 2017
City of Richmond
Since August 26, 2017 Evelyn Moore, Mayor a prohibited of entry order was being released due to the Brazos River in the City of Richmond Texas unsafe read . The next day, Evelyn Moore, Mayor signs a mandatory evacuation order to the City of Richmond. In this mandatory order she lists 15 locations in the Fort Bend County from City of Richmond Texas. So why it took a full day to sign each order is questionable.
full evacuation order
Fort Bendy County.
http://fbcoem.org/advisory-on-barker-reservoir-levels-advertencia-de-los-niveles-de-agua-en-el-barker-reservoir/
The following link is to evacuation orders http://fbcoem.org/evacuation-orders/ .
Below is a video report from youtube, where he states that 26,000 acres of water have to be released at 2 am on August 28, 2017 a never before seen scenario specially during a hurricane season or a hurricane harvey drops more rain and water.
The August 27, 2017 report from the below video called Advisory on Barker Reservoir Levels/ Advertencia de los Niveles de agua en el Barker Reservoir date of August 27, 2017
Map water to be released from Addicks, Barker reservoirs August 27, 2017 9:26 pm
Soon after the Advisory these were the words from Col. Lars Zetterstom:
"These structures continue to perform as they were designed to do, which is to protect against flooding in downtown Houston and the Houston Ship Channel," Galveston District commander Col. Lars Zetterstrom said in a release. "However, we do expect to release late this evening into early tomorrow morning.
read
more
City of Rosenberg
Mayor of Rosenberg, William Benton sets an evacuation order on August 26, 2017 read
order
and a declaration disaster was signed on this date.
Texas Levees OK For Now!
2019-08-29 3:00 pm
Infrastructure Failure for Texas Bridges, Culverts, and Roadways
Levees, Bayous and Creeks, Reservoirs are under Threat
The Texas Houston area has had historical and threatening flooding evacuations are being passed down through words by the minute. Evacuations have been mandatory for some places and for the ones that have been under evacuation briefing it is a waiting game. But this waiting game is it safe enough and will it save lives. Its been several hours now and over 12,000 troops have just been sent out by the National Guard. But bridges are being washed out, evacuation routes are being inundated with water and now what remains are the Levees. And there is additional flooding for Lake Houston.
2:00 pm central time, August 29, 2017, says that dealing with one event would be alot and then
with the Creeks and Bayous!. Neither one of the levees have been over topped neither one of the levees have been breached.
continue reading full report
read full report of
Evacuation Get out Now!
Buffalo Bayou August 27, 2017
— Dylan Baddour (@DylanBaddour) August 27, 2017