follow megatrndz on twitter, facebook, youtube and google plus
Emergency Evacuation Get Out Now!
Get Out Now Reports
Requests of neighbours helping neighbours,
disasterassistance.gov
2017-08-29 10:30 am Updated 1:00 pm
Two Rivers Record Cresting since 1995
Trinity River has crested new record
Texas Gov. Deploys All 12,000 Members of Texas National Guard. #NationalGuard #Texas
12,000 national texas guards are just being set out as of August 29, 2017 12:15 pm national coverage watch
krgv Texas National Guard Activated
news report video link
Breaking News: Urgent Get out Now Reports
10:00 AM (Urgent) #Breaking: Levee at Columbia Lakes in Brazoria Co. Get out now!
Around Cedar Bayoo water coming quickly Get out 10
Just 2 hours ago at around 11:25am central time the brazoria county puts out a tweet
August 29, 2017
Everything is overwhelming and one rescue after another are the reports on August 29, 2017
So it seems that there are several reports of the people saying that the evacuation notice was not enough time.
White Sheet of Paper on Windows
Rescue Symbol
Put a White sheet of paper, or door if you need to need to be rescued.
Evacuation Routes No Longer
It is being reported that the actual evacation routes have become covered overnight with water.
Cell Phone System Bogged Down
2017.08-29 It was reported 10:29 am Central time by the Brazoria County to LIMIT cell phone use to Emergency only! The system are being bogged down, and emergency calls are being dropped. Please reserve callls to emergencies only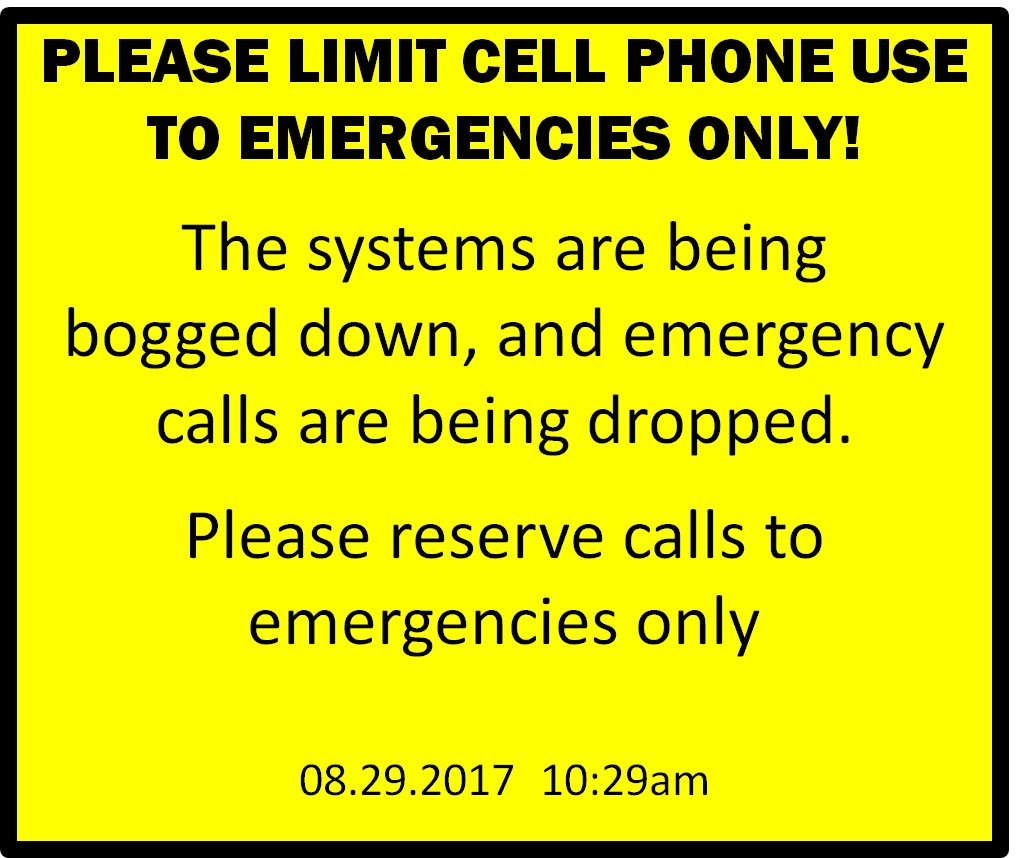 Bridge Collapsing
At 8:16 am Greens Bayou Bridge at woodforest and nomardy Collapse at 10:20 am central times the News report
ALERT from @HCSOTexas: Bridge over Greens Bayou collapse at Woodforest Blvd and Normandy, near Cloverleaf area

— Harris County OHSEM (@ReadyHarris) August 29, 2017
Watch live coverage at Texas News REPORT below Houston Metro
Incredible and Heart Breaking people stranded rescue mission on Forrest Hollow and Bayou Vista
It was not flooding yesterday, and the back Dayle Foster says that the backyard was visible and on August 29 it was flooding.
On Eljay Parkway closed to a plantation 4218 Prestige neighbourhood rescues a Pregnant Lady she says since 230 am they have been waiting for evacuation rescue. The water happened overnight.
Watch the rescues in below video